5V Metal Roofs Can Be Installed Right Over Existing Shingles
Removing an old roof and disposing of the mess can be a big expense and a big hassle. But if you are considering a new metal roof, you may not need to worry about "out with the old, in with the new".
Most people don't know that some varieties of metal roofing can actually be installed directly on top of the existing roof. This saves money on the removal of your current roof, not to mention the cost of disposal and a reduction in landfill waste. One such metal roofing material that can be installed over shingles is 5V Metal Roofing by Union Corrugating Company.
The Good News About 5V Metal Roofs

Manufactured by Union Corrugating Company, which is headquartered in Fayetteville, North Carolina, 5V metal panels are especially popular here in Middle Tennessee and other areas prone to brutal storms. This is because 5V roofs have proven to hold up fabulously during bad weather.
The 24"-wide roof panels are designed with an enhanced "U" over "V" profile to provide maximum leak resistance. 5V is available in three different gauge options–utility, 29, and 26. One of our experienced project managers can recommend the right one for your property based on your intended application.
Color Options
The 29-guage metal roof panels are available in three colors—Evergreen, Terracotta Red, and White—while the 26-gauge metal roof panels come in Arctic White, Burnished Slate, Evergreen, Gallery Blue, Marine Green, Patriot Red, and Sahara Tan. All colors other than Black, Burgundy, and Gallery Blue have an Energy Star-certified high reflectance color, which can reduce cooling costs.
The 5V metal roof panels can be installed on solid decking with a minimum slope of 3 on 12. In most cases, they can be installed over existing shingles, though you'll want to have one of our professionals evaluate your roof and confirm suitability.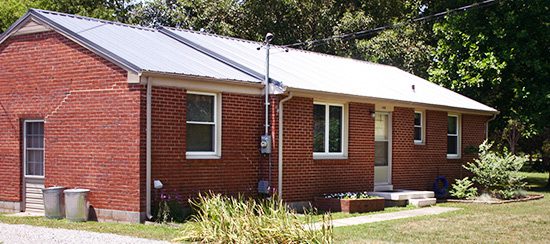 Expert Metal Roofing Contractors
When you choose L & L Contractors to repair or install your new metal roof, you can trust that our professional roofing team will get the job done swiftly and efficiently. The experts at L & L Contractors will treat your home with the utmost of care and work diligently to complete your new roof on time and on budget.
If your roof has been damaged, it may be time to consider getting the metal roof you've always wanted. Get ready for this storm season – give us a call today at (615) 617-3189 for more information on our roof installation and repair services!
If you're thinking about installing a metal roof, ask us for information about the standing seam metal roofing option.