Spring is finally here! While this season brings much-anticipated warmer temperatures, it also brings plenty of stormy weather. During this stormy spring season, a good roof is a necessary part of protecting your home or business against the elements.
Whether your business' roof is sagging, leaking, or is just in dire need of repairs, consider having a new roof installed this spring. A correctly and professionally installed commercial roof can protect your employees, customers, office space, and inventory from any damage to the elements.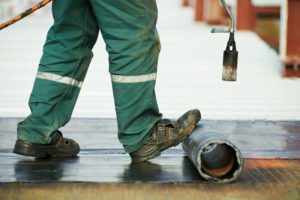 Why a good roof matters
Being a business owner can be a stressful experience; you shouldn't also have to worry about the integrity of your roof during a storm. Your business' building can contain hundreds of thousands of dollars of equipment or inventory that can be destroyed in a matter of minutes by a leaky or otherwise faulty roof. Damaged roofs can cost businesses hundreds of thousands of dollars in repairs and lost revenue if not well maintained.
This year, make an investment in the future of your business by having a new roof installed. At L & L Contractors, we offer free commercial roof inspections, designed to evaluate the structure and stability of your existing roof. Our thorough and detailed reports can help you make the decision as to what roof is right for your business.
For businesses looking to keep their roofs maintained, we offer customized roof maintenance plans. Inspections can be scheduled annually, bi-annually, quarterly, or at any other interval; during these inspections, one of our highly trained roofers will evaluate the condition of your roof and make any repairs as needed. A preventative maintenance plan is an excellent way to continuing protecting your business long after you've had the roof replaced.
Why choose L & L Contractors
Commercial roofing is significantly different than residential roofing; commercial roofing even requires a separate contractor's license. Because of this, it is extremely important to work with a company who has a wide variety of previous commercial roofing experience. At L & L Contractors, our commercial customers include restaurants, hotels, barns, warehouses, and everything in between.
In addition to the wide range of businesses that we work with, we can also provide a wide range of roofing materials. Whether you need built up, TPO, EPDM, or metal roofing, trust your business to L & L Contractors. Our experience and knowledge of commercial roofing as unsurpassed in this area; this provides you with a high quality of workmanship and a roof that will protect your business for years to come.
At L & L Contractors, we guarantee our customers the highest level of customer service throughout the entire roofing process. In addition to correctly installing a high quality product that will last for years to come, we ensure that all roofs comply with both local and national building codes. In addition, we do our best to complete each project in a timely manner, cleaning up all remnants of the roofing construction to leave a perfectly clean parking lot or lawn after completion.
Your business is an enormous investment; make sure your investment is protected with a high quality roof. Contact L & L Contractors today to learn how we can better protect your business against storms this spring and for years to come!