We Are One Of The Nashville Areas Top Vinyl Siding Installers
Are you looking for a low maintenance siding that you won't have to repaint? If so, vinyl siding could be just what you've been searching for. Vinyl siding is one of the most popular siding choices in our area, and is built to withstand some of the stronger storms that frequent Nashville and Murfreesboro. And because of its relatively low cost up front and low maintenance down the road, vinyl siding is an investment you can be confident in.
Why Should I Choose Vinyl Siding?

Curb Appeal: Vinyl siding works on a variety of architectural styles – from historic to contemporary – and comes in a wide range of styles and shapes and in hundreds of colors. You'll find that it's available in both horizontal and vertical profiles, and comes shaped as shakes, scallops, and even fish scales. Regarding texture, you'll find everything from smooth to deep wood grain, and you can also find it in beaded, clapboard, and Dutchlap designs.
Durability: Vinyl siding has been shown to withstand high winds (certified to withstand winds exceeding 110 mph) and to resist the damaging effects of heat, cold, and moisture. Most manufacturers offer a lifetime warranty for the original homeowner and will extend a prorated warranty of at least 50 years to future owners.
Energy Efficiency: Vinyl siding blankets your home's leaky studs, effectively reducing thermal bridging, so that your expensive conditioned air stays where it belongs—inside of your home.
Low Maintenance: You'll find that vinyl siding requires only periodic cleaning with mild soap and water from a garden hose. It does not rot or split and isn't damaged by insects. Furthermore, you never need to repaint it, caulk it, or repoint it – now that's good news!
Earth-Friendly: Vinyl siding scores well on environmental measures of all of its processes, ranging from manufacturing, transportation, installation, service life, and waste management.
Value: The cost of vinyl siding is lower than all other exterior cladding. And since it never needs to be repainted and requires very little maintenance, it costs almost nothing to maintain. Furthermore, vinyl siding ranks among the highest ROI (return on investment) for remodeling projects.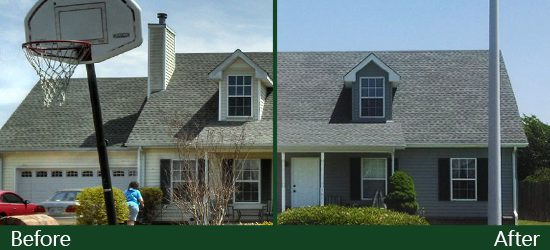 L & L Contractors Knows Vinyl Siding
Have you decided that vinyl siding is the way you want to go? Keep in mind that it is just as important to find the right installer as it is to find the right material! According to the Vinyl Siding Institute, "Using trained, experienced, and certified professionals will help ensure that your home's vinyl siding will look great and perform well for years to come."
At L & L Contractors, we are highly trained and experienced at installing vinyl siding according to the manufacturer's specifications. You can count on the quality of our work, guaranteed! Call us today at (615) 617-3189 to schedule your free siding consultation!
Hardie board is another great option when it comes to a choice of siding for your home or business. Ask us for more details today.